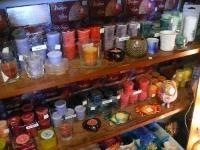 CANDLES
-pillar candles, tapers, t-lights, votive candles and LED t-lights

-candle holders, votive and t-light holders and candle sticks

-candle snuffers and bobeche

-beeswax and wicking for making candles

-assorted candle gift sets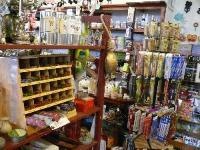 INCENSE

-Nag Champa the # 1 incense

-new - protector angel, love magic, prosperty magic, magic yoga, calling money and anti-stress

-old favourites - vanilla,sandalwood, rose,patchouli, coconut, lemongrass, jasmine, amber, rainforest, etc.

-meditation, tranquility, serenity, harmony in boxes

-individual sticks in 24 scents to mix and match. Ash catchers& gift sets



BATH PRODUCTS

- brand new arrivals
Shower Bursts Lavender,Lemongrass,Grapefruit and Eucalyptus bursts of aromatherapy with pure essential oils. A Fun experience.



Aromatherapy Sleep Stones in a glass jar. Just open beside your bed and sleep through the night. Also Snorerox uses a natural blend of essential oils for a quiet peaceful night's sleep also in a resealable jar. Made on the Sunshine Coast in BC


Natural Healing Aromatherapeutic Bath Treatments - bath salts for your every mood - Souls' Ocean for grounding, Earth for pain relief, Namaste for beauty and truth, Melissa known as Valium in the bath, Bliss for napping and dreaming and Wild Woman Medicine show in assorted formulas. A quality product made on Vancouver Island.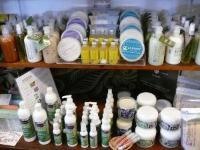 -two more new lines of bath products.
Tashodi - A Canadian Fair Trade Company as seen on Dragon's Den. Pure ecofriendly indulgence. Soak in the Lavender and Shea Butter Bath Salts for ultimate relaxation.
Indigenous Earth - all natural ingredients, many wildcrafted blends for traditional native recipes from the Coast Salish Ancestors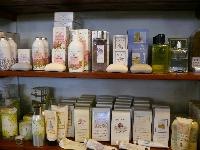 -old favourites
Kama Natural Soaps all natural with pure essential oils and amazing fragrances and natural aromatherapy. Always a best seller
Crabtree & Evelyn - a traditional favourite drawn from nature
Time and Again - emollient-rich Shea Butter, Cocoa Butter, pure Glycerine and Vitamins to protect and nurture your skin.

Full range of Essential Oils for relaxation and therapy
- From ALL SPICE to YLANG YLANG and everything in between (over 45 types)
- Hot new items including "THIEVES OIL" and "OIL OF OREGANO" to boost your immune system
- We stock Essential Oil diffusers, burners and spritzers
- Create your own bath experience and customize your perfume